Making an Impact Online
Creating a website that really works...without breaking the bank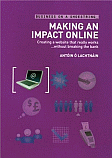 By Antoin O Lachtnain

Published by A&C Black Publishers Ltd (2007)
Paperback, 204 pages
ISBN: 978-0-7136-7545-0

Packed with essential advice, the small book is part of the Business on a Shoestring series, aimed at small business owners who want to help their businesses reach their full potential...on a budget.

Doing business online is essential these days. Even if you only have a small budget, it is possible to create an Internet presence that will compete effectively with larger competitors. Once your strategy is in place, a good, simple website, strong marketing plan and simple but effective back end sytems are all you need.

In this practical and accessible book, the author explains how you can apply the same basic techniques as existing Internet businesses, large and small, to increase sales and cut costs.

Topics include:

• working out the right strategy for your business
• setting up the basics such as a domain name, email address and website
• creating easy to use payment systems on a budget
• marketing your website through search engines, directories, blogs and word-of-mouth
• opening new sales and marketing channels through affiliate marketing and auction sites
• building a rapport with your online customers and partners.

Buy this book at a discount from Amazon.com