Get to the Top on Google
Tips and Techniques to get your site to the Top of the Search Engine Rankings - and Stay There.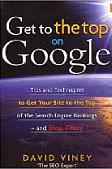 By David Viney

Published by Nicolas Brealey Publishing (2008)
Paperback, 250 pages
ISBN: 978-1-85788-502-6

The vast majority of searchers never make it past the first two pages of Google or click on sponsored listings, so being at the top of the standard search results can literally transform your business. Search Engine Optimisation (SEO) involves making it easy for search engines to find your website and to boost your position in the rankings.
Get to the Top in Google claims to be the first book to address all aspects of search engine marketing comprehensively through a simple, seven-step methodology, tried and tested with clients small and large, including Amazon and Microsoft. Designed to be accessible for the beginner but comprehensive enough for the skilled marketer, the book is illustrated with global case studies and covers emerging ideas in Web 2.0, local search optimisation and the future of search itself.
Discover how to attract searchers with phrases that pay, how to court the crawl of Google spiders, tips for copywriting and link building, how to target the long tail, and techniques for tracking and fine-tuning your campaign to make more money online. This book could be the best investment you ever make in your website and your business!
Buy this book at a discount from Amazon.com or from Fishpond