Search Marketing Strategies
A Marketerís Guide to Objective-Driven Success from Search Engines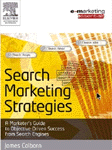 By James Colborn

Published by Butterworth-Heinemann Ltd (7 Oct 2005)
Paperback, 208 pages
ISBN: 0-7506-6618-8

This title is one of the growing number of books that focus on the rapidly growing search marketing sector and is aimed at marketing professionals who want to focus on how to gain awareness, leads and sales from the billions of searches completed each day as people seek information online about products and suppliers.

Concentrating on the strategic element, James Colborn demonstrates how to adapt the tactical techniques - such as paid search, search engine optimisation and analytics packages - into search engine strategies which maximise organizationsí visibility to achieve marketing or corporate objectives, such as branding, sales and customer acquisition.

By focusing on search marketing strategies, the book explains the effective approaches to Search Engine Optimisation and Paid Search and considers the topic of search from the point of view of the marketing function. It also acts as a toolkit for adapting tactical techniques into search strategies.

Written from a marketing perspective, the book offers a concise and relevant guide, with a clear structure and learning points. Case studies and examples are used throughout to ensure the process of applied learning is easy to implement. A wide variety of , US and international industries are covered including B2B, B2C and C2C, whilst viewpoints are taken from industry players such as Google and Overture (Yahoo! Search Marketing), in addition to the authorís perspective, to provide a balanced, international view of search.

A valuable book that helps to explain the market and techniques involved and to show how to apply strategic focus to a search marketing campaign in order to gain competitive advantage.