Planning Your Internet Marketing Strategy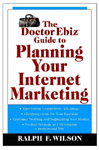 By Ralph F.Wilson

Published by Wiley, 2002
Paperback, 251 pages
ISBN: 0-471-44109-0
Nothing drives an e-business like a killer marketing plan. In this eye-opening guide, Ralph "Doctor Ebiz" Wilson shows you, step by step, how to construct an e-business marketing plan that will focus your efforts, energise your staff, and generate the sales you crave.
Doctor Ebiz shows you how to identify e-business opportunities, brand your website, and define your e-business niche. You'll also discover how to develop a unique sales proposition, analyze your industry and your competition, and attract the best customers to your site.
This useful resource provides the know-how you need to know, including setting goals for your e-business, differentiating your company's products and services, positioning your company in the customer's mind, mastering product strategy, placement, promotion, and pricing, plus budgeting and implementing your plan.
Complete with hands-on exercises that let you perfect each step before applying it, this book is designed as a road map to follow your route to e-business success!