Internet Marketing
Strategy, Implementation and Practice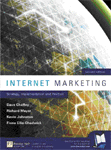 By Dave Chaffey, Richard Mayer, Kevin Johnston, Fiona Ellis-Chadwick

Published by FT Prentice Hall, 2002
Paperback, 576 pages
ISBN: 0-273-65883-2

Internet Marketing is a comprehensive guide to how organisations can use the internet to support their marketing activities and covers all aspects of Internet Marketing – environmental analysis, strategy development and implementation.

Building on the successful and widely regarded first edition, this second edition of Internet Marketing has a completely revised structure and streamlined content, increasing the marketing orientation of the text by decreasing technical background about the internet.

New to this edition:

• A revised structure providing a clear sequence to the stages of strategy development and implementation.
• A new chapter on how the internet can be used to vary the marketing mix.
• New chapters on the micro- and macro-environment for the internet, providing a foundation for strategy development.
• Strategy chapter has been updated to reflect latest thinking.
• Greater detail on internet marketing communications, including the latest techniques, such as pay-per-click search engines and viral marketing.
• New case studies.
• Relationship marketing chapter now takes a CRM-oriented approach.
• New, four colour design to improve clarity.

A Companion Website at www.booksites.net/chaffey includes study material designed to help you improve your understanding, extensive links to useful websites and an online glossary.

Internet Marketing will be invaluable for students studying e-marketing, e-commerce or internet marketing at second, third or postgraduate level, as well as specialist courses involving internet marketing. It should also prove to be extremely useful for practitioners wishing to update their e-marketing skills.