Search Engine Positioning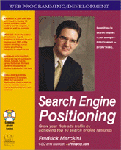 By Frederick Marckini

Published by Wordware Publishing Inc, 2001
Paperback, 568 pages
ISBN: 1-55622-804-X
Books on search engine positioning (or placement, optimisation, or whatever term may be used) are a rarity, partly because it's a specialist area but also because changes in this field can happen so rapidly (illustrated here by the inclusion of Raging Search, which has since been merged back into AltaVista). Therefore it's a brave publisher that makes a commitment to such a book, but Wordware may have made the right decision with this book as the first print run reportedly sold out within days of appearing in the US.
No doubt the publishing decision was helped by the financial cushion that must have been available from adding a trial disc of WebPosition Gold, plus numerous references to Marckini's own company, iProspect.com. However, despite these minor niggles, this is a book that should be used as a reference source by anyone tackling search engine placement for the first time.
The book begins with a review of how search engines have developed over the past 10 years and sets out the arguments for using search engine positioning as a marketing technique. Advice on the use and importance of choosing the right keywords leads into some more detailed chapters on the basics of optimising a website, such as keyword prominence and frequency, the value of metatags and domain names.
Marckini adds some valuable advice on the submission process and how to avoid 'spamdexing', plus he covers some of the design issues that can often be overlooked but may seriously limit the ability of a website to achieve a top ranking on search engines.
One of the key sections of the book is the review of the most important search engines and directories. The descriptive text is mostly very generalised, but the summaries at the start of each chapter do provide a good reference point to how each search tool derives its results and how it handles different elements of a website's optimisation. Much of this information is based on Marckini's experience with positioning websites, as well as the results of interviews with each company where some tips have been gleaned from the ever-secretive search tool owners.
The final part of the book includes a review of the various optimisation and submission tools (and the hefty section on WebPosition Gold comes as no surprise!). There are some valuable chapters on the use of 'informational' pages (doorways) and a discussion on the pros and cons of cloaking. A chapter on analysing log files is welcome as this is an area often overlooked or not fully understood, whilst sections on buying advertising on search engines and paying for placement are also revisited in the final section that attempts to see where search engines will go in the future.
This is certainly a solid reference book covering all the main issues surrounding search engine positioning and for those who might not like to keep updated with this type of content online with Danny Sullivan's Search Engine Watch website, it will be a worthwhile investment.
Much of the advice constitutes the groundwork of an effective search engine positioning programme, written by one of the leading exponents in the USA. Some of the issues discussed will inevitably change and so the knowledge gained from this book will need to adapt with future developments in the market. But if you want to learn more about the techniques involved, buy this book soon while it's still current - and available!