Pay-Per-Click Search Engine Marketing
Low Cost Strategies to Attracting New Customers Using Google, Yahoo & Other Search Engines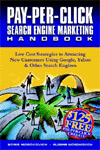 by Boris and Eugene Mordkovich

Published by Lulu Press Incorporated, 2003
Paperback, 204 pages
ISBN:1-4116-2817-9

Once you've developed a website to sell your product or service, you need to attract visitors. Search engines are a key source of online traffic and as search engine optimisation becomes harder to achieve - particularly for new websites - then pay-per-click advertising is a primary option.
If you're new to this game then the Pay-Per-Click Search Engine Marketing Handbook has all the answers. This was the first mainstream book published on the subject and the authors, Boris and Eugene Mordkovich share their knowledge and experience, from the most basic "Pay-Per-Click 101" information (including how pay-per-click works; why it can be so effective; how to craft an ad campaign that generates sales; and how to know what works and what doesn't), to the most advanced PPC strategies being used today, including contextual advertising, click fraud, localized search, and more.
The main areas covered in this handbook include:
Why advertisers should consider using PPC
How to develop a pay- per-click ad campaign
How ad trackers save you time and money
How to pay 70% less than your competition
How to protect yourself against click fraud
How to target local customers via search
Tips and tricks from 14 top PPC experts
Although books like this can date very quickly, this is a very readable and concise introduction to the subject. There is quite a US slant to the book but we would recommend this as a good introduction to anyone wanting to learn about how Pay-Per-Click advertising works and how to use it as a highly effective online marketing tool.
Buy at a discount from Fishpond