Marketing Through Search Optimization
How to be found on the web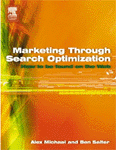 by Alex Michael and Ben Salter

Published by Butterworth-Heinemann, 2003
Paperback, 264 pages
ISBN: 0-750-65979-3

Marketing Through Search Optimization: How to be found on the Web is the step-by-step marketers guide to improving web ranking in search engines and getting sites listed effectively in online directories.

Search engine placement has become a key task for those engaged in website marketing because:
• Good positioning in search engines and directories dramatically increases visitor traffic.
• Optimizing search engine ranking will be the most important and cost-effective way of marketing a website.
• Customers use search engines more than any other method to locate websites.

Submitting to search engines is only part of the challenge. I sis also vital to prepare a website through 'search engine optimization', ensuring that web pages are accessible and focused in ways that drive traffic to the site.

The authors guide readers through proven techniques for achieving and measuring success, and provide a review of the most important search engines and directories. Throughout the book there are numerous real case studies and tips to help the marketer build a world-class web presence.