Web Design - The Complete Reference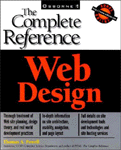 By Thomas A. Powell

Published by Osborne/McGraw-Hill, 2000
Paperback, 896 pages
ISBN: 0-07-212297-8
Everything you ever wanted to know about web design? This book is not far from it, so whether you want to teach yourself by wading through this substantial book, or simply use it an occasional look-up, it will make a worthwhile purchase.
Unfortunately many websites bear testament to the fact that there is whole lot more to creating a good-looking, functional web site, than just learning HTML. Powell sets out to instill the principles of creating a attractive and 'user-friendly' web site, using what he sees as good design principles, and by imparting the theory and practice behind what makes a web site effective.
This is an not a guide to HTML, although it includes plenty of code examples. The book assumes the reader has a good knowledge of core HTML and CSS coding, is familiar with JavaScript and can use graphics tools, such as Photoshop.
Divided into 6 main sections, the book begins with an excellent outline of the core issues of web design and how to start from a blank sheet of paper to develop a site built for users. The next two sections are the largest, dealing with the organisation and navigation issues for a site (including a brief section on search engine optimisation), and the basic elements of page design.
The next two sections cover technology issues, discussing such elements as client and server side programming, using JavaScript and multimedia, and the future direction of web design with new advances and the impact of broadband. Finally an extensive Appendix includes a lengthy sample document for a site evaluation procedure.
Like all titles in this series, there's a huge amount of information packed into this book which makes it a great reference source, rather than a stimulating read. For anyone involved in creating or commissioning a new web site, the first sections of this book, in particular, are essential reading to help create an understanding of the best web design principles.
OK, so designers like breaking the rules, but tried and tested formulas should be ignored at your peril!