Yahoo! Hacks
Tips & Tools for Living on the Web Frontier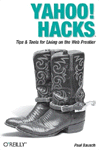 By Paul Bausch

Published by O'Reilly (28 Oct 2005)
Paperback, 488 pages
ISBN: 0-596-00945-3

Yahoo! took the world by storm in the 1990's as one-of-a-kind, searchable list of interesting web sites. But 10 years later, it has expanded into a department store overflowing with useful and innovative tools and services – from email, blogging, social networking, and instant messaging, to news, financial markets, shopping, movie an TV listings, and much more. Today Yahoo! keeps users connected with every aspect of their lives and in every corner of the Web.

Yahoo! Hacks is one of a series of titles that help to show users how to get the most from different online tools and techniques - in this case, how to use, expand, personalise, and tweak Yahoo! in numerous different ways. This book will show you how to:

• Fine-tune search queries with keyword shortcuts and advanced syntax
• Manage and customize Yahoo! Mail as a universal email client to access all of your other accounts.
• Explore your social networks with Yahoo! 360, blogging your life, keeping up with friends and making new contacts.
• Store, sort, blog, feed, track, and otherwise share photos with Flickr and RSS.
• Make My Yahoo! your Yahoo! and personalize Yahoo!'s many properties.
• Roll your own Yahoo! applications with the new Yahoo! Web Services API and Perl, PHP, Java, Python, Ruby, or the programming language of your choice.
• Visualize search results and topics, mash up images from around the Web, remix other web content.
• List (or hide) your site with Yahoo! and integrate Yahoo! Groups, Messenger, contextual search (Y!Q), or other Yahoo! features.

So whether you want to become a power searcher, newsmonger, supershopper, or innovative web developer, Yahoo! Hacks provides the tools to take you further than you ever thought possible. It explains all these elements in a clear, easy to understand manner and offers the ideal single guide to getting the most from this web service.