The Extreme Searcher's Guide to Web Search Engines
A Handbook for the Serious Searcher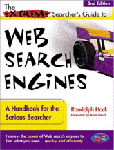 By Randolph Hock

Published by CyberAge Books, 2001
Hardback, 272 pages,
ISBN: 0-910965-47-1
Now updated in a second edition, this book offers a practical, clearly written guide to getting the most out of some of the web's biggest search engines. Aimed at the 'serious searcher' who wants to know about Boolean, nesting, truncation and proximity (just for starters) it will help web users get the best results for the search tools featured, without having to delve through each of their online help files.

Randolph Hock begins by outlining how search engines work and then clearly explains the different search strategies available, including some useful comparison tables between the search tools. He then selects eight of the top tools and takes the reader through each one, explaining their strengths and weaknesses, their special search features and tips and techniques to help users get the best results.

This is an excellent reference to anyone who wants to get the most out of the web's search tools and improve the quality of their results - or at least as far as the websites have been optimised correctly! The principles of constructing more advance search strategies are well presented and will enable readers to become more confident in tackling more accurate searches on any of the leading search engines and directories.

Having been expanded an updated for the new edition, it's good to see that the book now includes Google and FAST, plus there is a useful chapter on meta-search tools as well and the principle information featured in the book is available in an updated form online by using the link below.

So, we suggest using this book as one of the best guides to learn advanced searching techniques to help you make the search engines work for you!

Buy at a discount from Fishpond