A Guide to Finding Quality Information on the Internet
Selection and evaluation strategies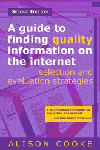 By Alison Cooke

Published by Library Association Publishing, 2001
Hardback, 224 pages,
ISBN: 1-85604-379-7
This second edition of this accessible academic book continues to provide an excellent perspective on assessing the results of an Internet search and deciding what information is valuable and what is complete bunkum. Being sure about the validity and reliability of a website, for example, is crucial for anyone undertaking serious academic research, but it can be equally important for students completing a school project or business users sourcing accurate information.

Alison Cooke has written a guide that asks the question once a search has been completed Ė how useful are the resulting answers? The basic principles of assessing the 'quality' of an online source have not changed dramatically since this book was first published in 1999, but many of the examples and background information has been updated to reflect the changes in the intervening years.

Once you get beyond the rather lurid cover design, Cooke discusses the strengths and weaknesses of the various search tools available and then provides a set of criteria that each information source should be judged against, such as its coverage, authority, accuracy and presentation. She then evaluates different types of Internet sources, from corporate websites to electronic journals, Usenet discussion groups and FTP archives. A final section, added to this edition, also considers the reliability of using checklists or rating tools, 'kitemarks' and metadata to determine the quality of a source.

Despite being aimed at an academic audience, this book does provide a unique and valuable guide to the constant question about quality on the Internet. If you donít want to read through the complete text, each section ends with an excellent checklist of questions that should be asked to help evaluate and select the best sources of information online - these are also listed together at the end of the book.

This new edition has been updated and extended and we would continue to recommended this book as a companion reference for any serious web searcher.

Buy at a discount from Amazon