Poor Richard's Internet Marketing and Promotions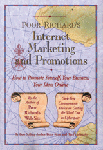 By Peter Kent and Tara Calishain

Published by Top Floor Publishing, 1999
Paperback, 432 pages
ISBN: 0-9661032-7-0
This is the best book we have come across that offers no-nonsense, practical advice about using marketing techniques on the Internet. Although there is plenty of good advice out there on the web if you look for it, the advantage of having this quality of information all in one source is a bonus for anyone setting out with a new website or wanting to make their existing site more successful. However, just make sure that you read it, test the ideas and move on before the web does!
If you're struggling for new ideas to drive more traffic to your website, use this book to discover a range of tips and techniques that the authors have put to the test, from low cost e-mail newsletters, press releases and other techniques such as product promotions, awards or discussion groups.
Peter Kent has written over 30 books, many of which are straight-forward guides to making the most of the web, while Tara Calishain is an expert in web research and marketing. Together they run through the full range of options available on the web and include plenty of website references for further information as well as software assessments to support relevant techniques.
Although they cover some basics about setting up a website (such as choosing domain names and hosts), this is only a small section at the beginning of the book – there are other books that can provide more help here. The strength of this book comes into play with their descriptions of the various promotional techniques and the potential benefits or downsides of each. The section on search engines covers a broad topic concisely, and discusses using search engines for market research as well as how to optimise a website. However, in the year since this book was published, some of the issues are now sounding dated – and there is no mention of Google!
The sections on using newsgroups, discussion groups, or newsletters has sensible advice about writing styles, while the coverage of banner ads and affiliate programmes demonstrate that these can work well but should be approached with caution. Finally a substantial section on e-mail PR is a valuable addition to the armoury that is rarely covered in other web marketing books, while the last part of the book recognises that the web is not a standalone media and reminds the reader of other ways to market your internet presence.