Guerrilla Marketing Excellence
The Fifty Golden Rules for Small-business Success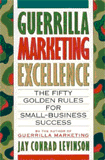 By Jay Conrad Levinson

Published by Houghton Mifflin, 1992
Paperback, 288 pages
ISBN: 0-395-60844-9

From the author of the best-selling Guerrilla Marketing series, this book includes more of the wisdom and advice from "guerrilla guru" Jay Conrad Levinson in the form of 50 basic truths that can make or break your company. This book takes the reader a step beyond do-it-yourself marketing guides and explains how to do it with excellence.

• Learn when and how to use humor (if ever) in your marketing
• Discover the crucial difference between profits and sales
• New ideas for marketing in a recession
• Wisdom for gaining share of mind, employing guerrilla gimmicks, an using marketing combinations
• The latest uses of video and television to assure distribution

Levinson's earlier title, Guerrilla Marketing was hailed by critics as a "veritable plum pudding of marketing techniques and secrets" (Los Angeles Times), and "a source of inspiration for many independent entrepreneurs" (Booklist). Now Guerrilla Marketing Excellence puts it all together in this accessible, informative, and thought provoking gold mine of ideas for all guerrillas who, by their nature, go for the gold!