eMarketing eXcellence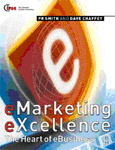 by PR Smith and Dave Chaffey

Published by Elsevier, 2002
Paperback, 340 pages
ISBN: 0 7506 5335 3
This book sets out to offer an exciting new approach to help build a customer-driven e-business. It's a practical guide to creating and executing e-marketing plans, combining established approaches to marketing planning with the creative use of new e-models and e-tools.
It is designed to support both marketers who are integrating e-marketing into their existing marketing and communication strategies and experienced e-marketers looking to optimize their e-marketing.
This book shows how to:
Draw up an outline e-marketing plan
Evaluate and apply e-marketing principles and models
Integrate online and offline communications
Implement customer-driven e-marketing
Reduce costly trial and error
Measure and enhance your e-marketing
Drive your e-business forward
As the core text for the CIM's professional E-marketing Award, it provides comprehensive, critical coverage of the key areas of e-marketing planning for marketing professionals.
Established marketing concepts such as customer relationship management, the marketing mix and the widely adopted SOSTAC planning system, are re-examined in the new media context, and new approaches are defined including business models, traffic building and website design.
Offering a highly structured and accessible guide to a critical and far-reaching subject, eMarketing eXcellence provides a vital reference point for all students and managers involved in marketing strategy and implementation.