Search engine marketing case studies
The following case studies illustrate a sample of recent campaigns we have implemented and the results achieved:
1) Search engine optimisation makes a difference
We were employed by a specialist consultancy business to optimise their website. They had developed a large corporate site that ranked well for their company name but little else.
The content on the site was good and there were also additional language sections under the same domain for their overseas offices. We provided search engine optimisation for the site, targeting a range of terms relevant to their market and advising on small structural changes to the site. Once completed, Google reindexed the revised site within one week and it quickly began to appear within the search results for some of the most popular terms used in their market.
Over the next few months, all the main search engines indexed the revised site and it established a strong visibility within the natural search engine results. Within 3 months the site was generating double the amount of traffic, most of which was from search engine referrals, and the number of enquiries from the website increased substantially.
2) Multi-lingual search engine marketing
One project that we have worked on for several years is for a large manufacturing company who own a number of websites that promote their consumer products to different language markets. We were tasked to increase the traffic to the UK, French and German sites and to reduce their reliance on pay-per-click advertising.
The first priority was to remove the framed structure on the sites and to create a more efficient site design and link structure, both within each site and between each of the country sites. We then researched the prime keywords for each market and prepared the site optimisation for each in the local language. The pay-per-click advertising campaign was reviewed and adjusted to a set budget each month as the revised and optimised websites gradually established a much stronger position on the main search engines.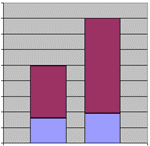 The results in the year following this work have been impressive, although there is still more to do to challenge for top ranking positions for some of the most competitive terms. The sites have now exceeded their visitor targets with an overall increase of 82% and a decrease in the share of pay-per-click traffic from 48% of total visits to 31%. This proportion of traffic continues to decline as the natural search engine rankings and traffic continues to grow across all 3 countries.
3) Pay-per-click advertising pays dividends
A leading UK training company providing distance learning programmes spent a large amount of advertising spend each year in the press and on TV. Initially, we worked on the optimisation of their new website to drive traffic online and, although some successes were achieved, these were hindered by the regular changes to the site design and content.
To support this activity, a pay-per-click advertising campaign was launched as an initial test of this relatively new medium. It covered around 100 terms and these were supported by 'landing pages' for each type of course. As this proved to be a valuable way of generating cost-effective leads and new business, the campaign was extended to more than 500 terms.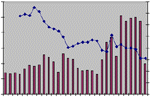 Through constant testing of the bid positions and response rates, we achieved the most cost-effective strategy to lower the bid prices for each term whilst increasing the visits and conversions at the most suitable level of spend. The campaign has proved to be a far more successful way of generating leads than the other media channels being used.
Search marketing remains a core part of the new customer acquisition strategy for this company and is expected to take up more budget in the coming year.
If you would like to find out more about our range of marketing services, please contact us now for more information. Alternatively, why not request our FREE marketing assessment to discover what online marketing opportunities may exist for your site.