Advertising on the Internet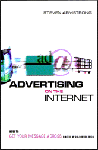 Second Edition by Steven Armstrong

Published by Kogan Page, 2001
Paperback, 114 pages
ISBN: 0-7494-3123-7
Web advertising remains a vital source of revenue for many websites and also offers an increasingly wide variety of opportunities for advertisers to use the web creatively. Web advertising is also a continuous source of debate about its effectiveness and role in the online economy.
Now in its second edition, this book serves as an excellent introduction to using advertising effectively on the Internet - and specifically on the World Wide Web. The first half of the book offers a general introduction to the web and the role of advertising. It then examines the issues surrounding banner adverts and other online advertising options, such as sponsorship and 'push' technology.
For anyone considering a banner advertising campaign for the first time, Steven Armstrong writes in a clear and balanced manner, examining the issues of 'click-throughs' and pricing models for banner ads, plus how to select the best positions and use the medium creatively. He covers the use of applets, cookies and microsites, supported by examples and screenshots. The book concludes with a section on using corporate websites and considers how online shopping will develop on the web as e-commerce becomes a more widely established form of trading.
A useful, accessible introduction to the issues surrounding web advertising and recommended reading for anyone starting out on an online campaign.