Increase Your Web Traffic In a Weekend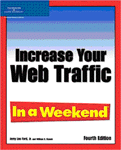 By Jerry Lee Ford, Jr and William R.Stanek

Published by Course Technology, 2005
Paperback, 400 pages
ISBN: 1-59863-108-X

You might have the most exiting, useful Website in the world. The question is, are you getting any visitors? What about advertisers, so you can earn money from your site?
Marketing your website and implementing strategies to increase your web traffic might seem daunting at first, but in reality there are many low-cost ways to attract readers and advertisers to your site. According to the authors, Increase Your Web Traffic In a Weekend is a comprehensive guide to all the techniques you need to get started.
Now in its 4th edition and designed to present these marketing strategies in manageable chunks spread out over the course of a single weekend, this book covers everything from how to tailor your site for search engines, to how to place ads on other sites without spending a penny, to how to track and analyze your visitors and put that information to work for you. It includes sections on where and how to publicize your Web pages for free, how to increase your Web traffic by making your site search engine-friendly, how to sell your site through e-mail and the methods of creating, tracking and managing banner ads.
Although it could be criticized for taking quite a simplistic approach to website marketing, this book uses a novel format to cover many of the aspects that should be considered and included within a website marketing plan and is recommended reading as an introduction to the subject.