Poor Richard's E-mail Publishing
Creating Newsletters, Bulletins, Discussion Groups and Other Powerful Communication Tools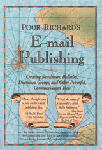 By Chris Pirillo

Published by Top Floor Publishing, 1999
Paperback, 362 pages
ISBN: 0-9661032-5-4
The Internet isnít just about websites. E-mail is a powerful and fast-growing area of Internet communications and marketers are using this media for newsletters, bulletins and discussion groups to promote their products and services quickly and cheaply. E-mail can be used to build loyalty and retain customers, yet e-mail can also raise strong emotions for Internet users and there can be a fine line between generating revenue and creating a PR disaster.
Written by an experienced electronic publisher from the US, this book explains how to use e-mail effectively as a marketing tool. Chris Pirillo reveals the secrets of successful electronic publishers and explains the doís and doníts in a common-sense, non-technical way. Covering everything from setting up an HTML newsletter, to finding and managing subscribers, and building the technique into a profit centre through advertising, affiliate programs and ancillary products, this guide highlights the advantages and pitfalls waiting for the unwary.
The second half of the book contains 6 case studies of US e-mail newsletters that contain some useful nuggets of experience penned by the publishers themselves. There is also an extensive appendix with valuable advice on software available and links to plenty of web and e-mail resources, plus a list of 50 great e-publishing tips if youíre in a hurry or want a refresher of the advice covered in the book.
This is an excellent introduction to anyone wanting to embark on this potentially powerful but emotive marketing technique on the Internet.