Total E-mail Marketing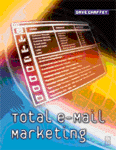 by Dave Chaffey

Published by Butterworth, 2003
Paperback, 220 pages
ISBN: 0-7506-5754-5
Email gives you a great opportunity to gain new customers and get closer to existing customers, but there are many pitfalls for the unwary. This book describes a practical approach to e-mail marketing for all marketers looking to exploit its potential.
It shows how to run effective e-mail campaigns aimed at both customer acquisition and retention. It also covers much more than guidelines on e-mail creative, as it explains how to plan and execute e-mail campaigns which integrate with other online and offline communications.
The book draws on expertise and examples from leading European practitioners to detail practical tips to improve campaign results. Packed with case studies and checklists to get you started or improve on past campaigns, the book covers these topics:
Planning effective, integrated e-mail campaigns
How to rapidly build a quality house list
Sourcing opt-in B2C and B2B lists
Ethical and legal constraints
Tools for managing inbound and outbound email
Design HTML and text format e-mails for maximum response
Writing engaging copy
Key issues in planning e-newsletters
Measuring and improving e-mail campaigns
Highly structured and designed for maximum accessibility, the book incorporates 'E-mail Marketing Excellence' boxes giving real-world examples of best practice and 'Campaign Checklists' to help you devise and check campaign plans.