Search Marketing Strategies
A Marketerís Guide to Objective-Driven Success from Search Engines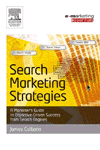 by James Colborn

Published by Butterworth-Heinemann, 2006
Paperback, 226 pages
ISBN:0-7506-6618-8
Search Marketing Strategies is the latest in a growing number of books that focus on the rapidly expanding field of using search engines to market a business online. With the sub-title, A Marketerís Guide to Objective-Driven Success from Search Engines, this book has been written specifically for marketing professionals who want to focus on how to gain awareness, leads and sales from the billions of searches completed each day as people seek information online about products and suppliers.

By concentrating on the strategic element, James Colborn demonstrates how to adapt the tactical techniques - such as paid search, website optimisation and analytics packages - into search engine strategies which maximize organisationsí visibility to achieve marketing or corporate objectives such as branding, sales and customer acquisition.

With this focus on search marketing strategies, the book explains some effective approaches to SEO and PPC (as well as Paid Inclusion) and also considers the topic of search from the point of view of the marketing function. It offers the reader a 'toolkit' for adapting tactical techniques into search strategies and although it achieves this reasonably well, it tends to over elaborate and use too much jargon in places, plus our other main quibble would be the occasionally confusing chapter structure.

However, written specifically from a marketing perspective, this book does provide a concise and relevant guide for those who wish to exploit this marketing technique more effectively and it includes some useful case studies and examples throughout to ensure the process of applied learning is easy to implement. In doing so, it is a useful addition to the range of books that now help to show marketers how to apply strategic focus to a search marketing campaign in order to gain competitive advantage.