Net Words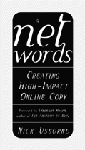 by Nick Usborne

Published by McGraw Hill, 2002
Paperback, 262 pages
ISBN: 0-07-138039-6
The web has become a highly 'visual' medium, with hyperlinks and graphics encouraging fast surfing and an expected familiarity of options for regular surfers. For this reason alone, the copy on a website needs to be effective in a small space - and amount - of time.
Writing copy for the web requires a different approach to other advertising media, although the closest neighbour is perhaps direct mail. There is an informality on the web that also has to capture the attention of surfers and keep them involved in a web site and what it is offering. Design will say a lot about your business, but copy is just as important - if not more so - in demonstrating your online credentials and helping to achieve your objectives.
>Nick Usborne has written a well-argued, focused book that will help anyone developing an online presence to create or assess good copy, whether it is for a website, e-mails or newsletters. He explains why online copy needs to be different, what works and what doesn't, by using a wealth of examples.
If you didn't realise it before, this book will show you how persuasive writing can help to differentiate your business from online competitors and build customer loyalty. Even if you don't have experience in writing copy, this book can offer you some excellent guidelines and finishes with a list of 10 'easy wins' with strong copy.
This is an excellent book about one of the main factors for online success that is often overlooked.