How to Write Great Copy
Learn the Unwritten Rules of Copywriting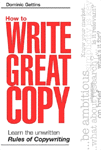 By Dominic Gettins

Published by Kogan Page Ltd, 2006
Paperback, 208 pages
ISBN: 0749446633

Copywriting is not taught in schools, or even advertising agencies, yet it is powerful force in creating wealth, launching products, or even winning elections. But can a creative act be taught? Dominic Gettins believes so, and in this book he outlines eight practical rules for writing great copy, namely:

Know your target.
Answer the brief.
Be objective.
Know your medium.
Do your research.
Be relevant.
Keep it simple.
Be ambitious.
And they work. They are a proven success where used on courses and workshops, as well as in many leading advertising campaigns. This book now shows you how you can apply these rules to your own work. If you're a seasoned copywriter this is a valuable source of ideas, quotes and examples reflecting the modern role of copy in advertising. If you're entirely new to the skill, you'll find rock-solid principles and the guidance you need to survive. And if you simply want to improve your written communication in the office, apply these rules and be amazed at the effect.
This book isn't focused on the web but looks at the principles of writing copy across a range of media. A valuable starting point to develop the core principles of writing (and assessing) marketing copy.